Castelli is a small town in the hills of Abruzzo (the region on the east coast of central Italy, on the Adriatic sea), famous for its hand-painted ceramics – a centuries-old tradition in the area thanks to its local deposits of clay.
You start to see shops along the road kilometers before you get there, and the town is full of shops with wares ranging from the cheap and tacky to ornate, elegant, and expensive.
The traditional designs are rich floral themes, landscapes, portraits, and animals. The people and animals are mostly copied from/inspired by San Donato, a tiny church on the outskirts of Castelli whose ceiling is entirely covered with thick, decorated ceramic "bricks", created centuries ago as votive offerings by local families.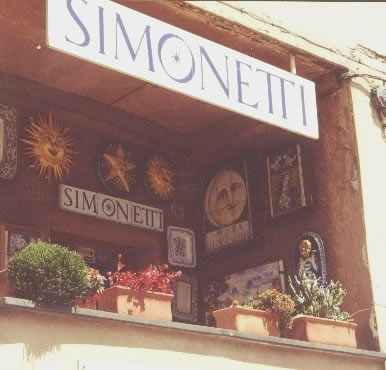 Those traditional designs are very busy, so if you prefer simple dinnerware, the Castelli style is not for you. The more elaborate pieces are better suited to hanging up as art than eating from. They are also fragile: after some years, the glaze on my serving bowl cracked when I put hot pasta sauce into it! (I still use it for salads.)
A few artisans are breaking with tradition and trying innovative, modern designs, but, at the time we visited, we didn't see anything terribly exciting in this vein.
After extensive searching, we found a couple of simple pieces to "match" our eclectic collection of china. Then, having done enough shopping to work up an appetite, we decided it was time for lunch.
Tip: Although it's almost impossible to eat badly in Italy, you can eat really well by asking local people for recommendations. Avoid the places advertising "tourist menus." The food there will likely be cheap and decent, but, in Italy, you can do a lot better than decent!
We asked a shop owner to recommend a place. She sent us to Ristorante Tortella, where, she said, the Castellani themselves go when they eat out.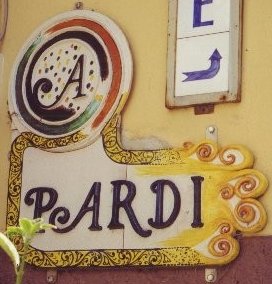 Lunch was indeed excellent: samples of several kinds of pasta, including maltagliati ("badly cut" – sheets of homemade pasta sliced into long triangles and rhomboids) with spinach and herbs; followed by grilled local lamb, washed down with a cheap but good local vintage of Montepulciano d'Abruzzo.
Tip: Wherever and whenever you travel in Italy, eat the local and seasonal specialties; these are almost always the tastiest items on the menu.