You might think that shopping for a sari ends when you purchase the actual sari, but you'd be wrong.
You don't even get to take it home right away. First the salesman cuts off the blouse piece, a section of cloth woven together with the sari that you will have made into the choli – blouse – to wear with it. You take that home with you, pending discussions with your tailor. The shop keeps the rest of the sari for a few days to sew in a fall, a strip of lining along the bottom, to add weight at the bottom and help it drape gracefully, and stitch up the raw edges. This service is included in the price of the sari.
Some saris don't include a blouse piece, so you need to find material in a matching (or contrasting) color. For that you go to a shop like the one pictured above – the photo shows only a portion of the goods on offer! – where you can find the precise shade of silk or cotton desired, with or without a decorative border.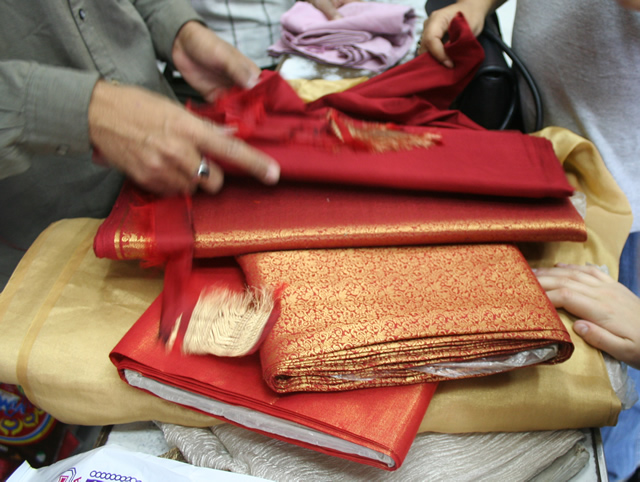 Alternatively, you can get a gold or silver crepe or brocade.
This shop is also where you will buy the petticoat, a drawstring-waisted skirt that goes underneath, into which you will tuck the pleats and wraps of the sari. The petticoat is chosen both for color (more critical for a transparent sari, obviously) and for a material which complements the sari material and helps it drape better.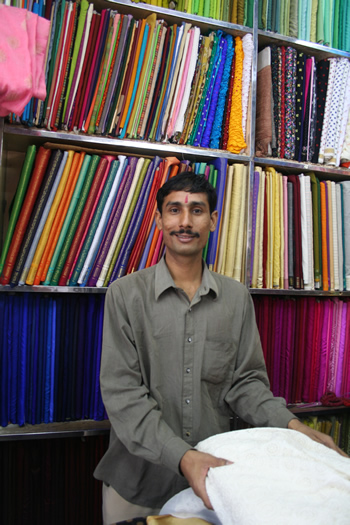 As always, every shop bustles with smiling salesmen ready to make helpful suggestions!