Today Ikea delivered a queen-sized memory foam mattress and "support" (Ikea's version of a box spring). I also bought additional wooden legs to raise it up a bit (hoping to be able to stash suitcases underneath), but couldn't put them on myself. Well, I could, but it will require two people to flip the support onto the legs once they're attached. Eventually I'll get help with that. In the meantime, the new mattress seems comfortable and at least I'm higher up off the floor.
This meant that I could move the single mattress I'd been sleeping on into the living room and onto a support of its own so that it can function as a daybed/sofa. But the wooden legs apparently can't be attached to this kind of support frame. Oh, well, back to Ikea to return them – I need to go anyway to buy a few more things: two more small bookshelves for the bedroom (especially since one has been repurposed into a bedside table), a couple of small tables for the living area, maybe a big cozy armchair if I can find something I like at a price I want to pay right now.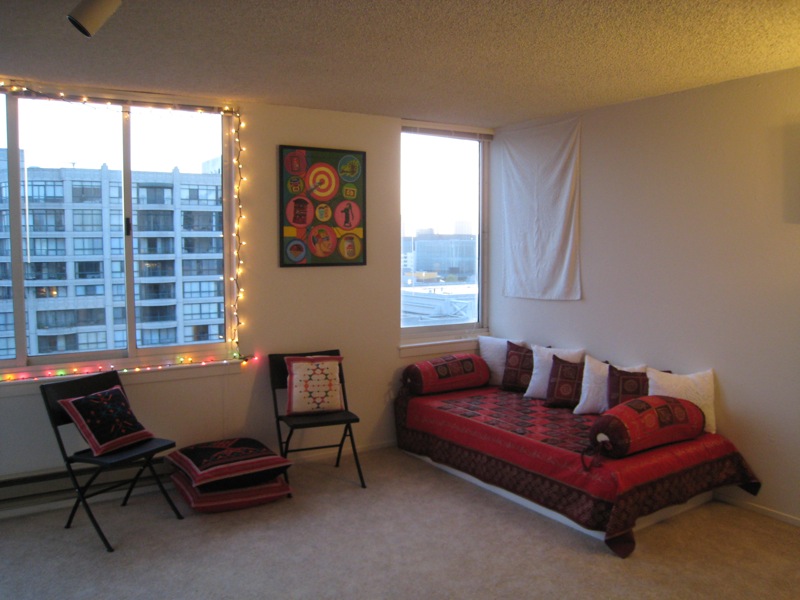 In both photos you can see all the "cushion forms" that arrived in an close-to-exploding box the other day, now filling out all the cushion covers I bought on various trips to India. The red cover, bolster covers, and square cushions on the daybed are a silk gaddi (throne) set I bought in Bangalore a couple of years ago and hadn't used til now.I'm going to have to find some way to keep the bedcover tidy, though – it bunches and wrinkles as soon as you sit on it.
And, yes, I have now become one of those annoying people whose bed is littered with cushions which will all end up on the floor at night. I have no idea why, except that they go with the bedspread!
Also note the twinkle lights on the window. I like them, they make me happy, so there.