Last Saturday we went to La Lanterna Verde, one of our favorite restaurants in the world, for the now-traditional celebration of Ross' and Alice's birthdays. Last year there were 11 of us, this year 10. The owners have become fond of us, though they'd like to see us more often!
Most of us had set menus, there were six or so to choose from. Graziella had the trout meal, so her antipasto was a salmon trout mousse, ricotta (I think) wrapped in salmon trout carpaccio, and smoked trout.
I ordered a la' carte, and for antipasto had paté, which had figs inside and came with a sweet red pepper coulis. I actually preferred the red onion coulis they used to make – I think it's a better complement to the paté.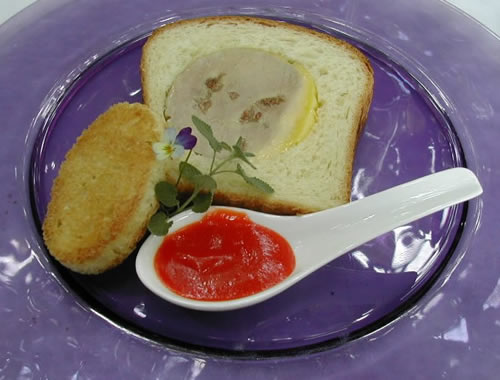 Here are a couple of primi (first course dishes): in the foreground, mushroom-filled ravioli with a chanterelle sauce and, behind, trout-stuffed ravioli with tomato and basil. This was part of the summer menu, spaghetti with a sauce of raw tomatoes, black olives, and very good olive oil.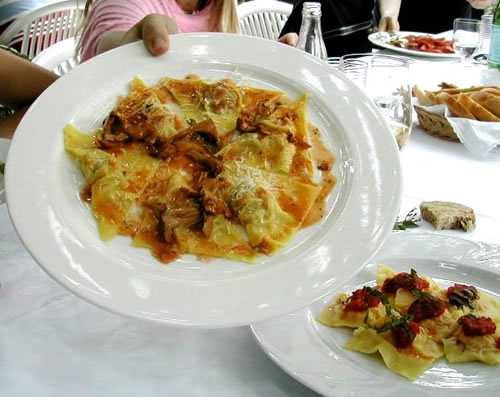 Ross and Alice in awe of Ross' main course, I think it was lamb ribs crusted in pepper. I got distracted with eating and forgot to photograph the other main courses (we had had quite a bit of wine by then, too!).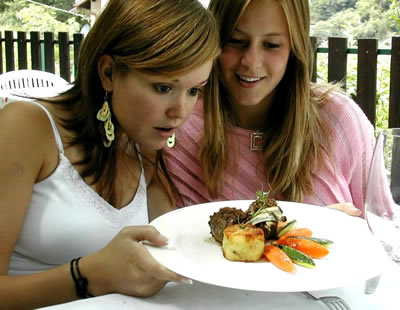 For dessert, the chef decorated the plates of our three birthday people (David and Ross share a birthday) with "Buon Compleanno" or "Auguri" in chocolate sauce.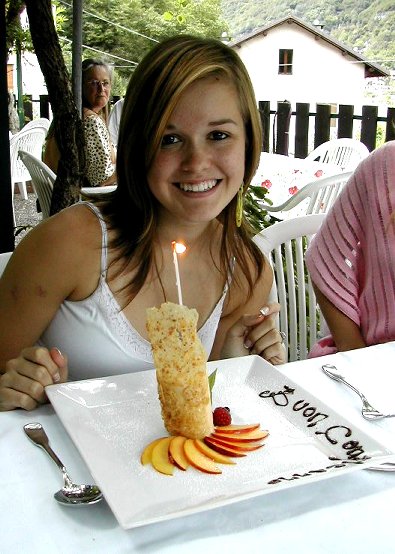 Julian had the palette of sherbets, here it doesn't look quite as elegant as when they brought it to the table, as he had already started on it before I got this photo.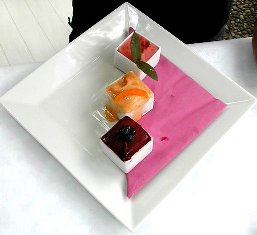 With coffee, they served these little trays of nibbles. The candy-coated cherries were amazing – a light, smooth coating of caramel on the outside, perfect sweet dark cherries on the inside.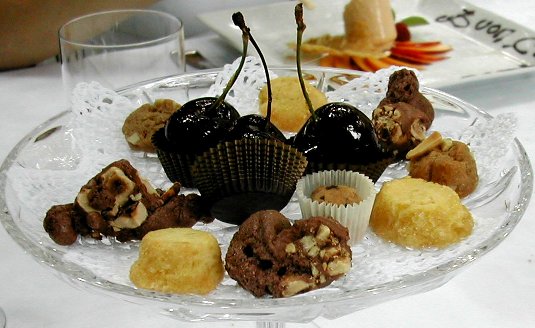 We like to go to Lanterna Verde during the day, because the drive up there is so pretty (it's on the road from Chiavenna to St. Moritz, high in the Alps), and in good weather you can sit out under the pergola and enjoy a view of waterfalls on the other side of the valley.