Italian Slang Dictionary: intro A B C D E F G I L M N O P Q R S T U V X Z
Accidente, un
[ah-chee-DEN-tay] A darn thing, usually used in the negative, as in Non mi ricordo un'accidente – I don't recall a thing. In normal useage, an accident (as with a car) is un incidente.
QT adds: Ti venisse un accidente – "May you have an accident," an ill-wish which apparently refers more to serious illness (heart attack, stroke, etc.).
Accidenti
[ah-chee-DEN-ti] A mild expletive, in a league with drat, darn, heck.
Apprezzamento
[ah-pretz-a-MEN-toe] Not a rude word, this translates roughly as "appreciation" or "comment", but it's used most often in apprezzamenti pesanti (pesanti = "heavy") for the kind of "appreciative" comment made to a woman that would cause her husband, boyfriend, etc., to react angrily. Such comments are often followed, in the news reports, by violence.
Arrapare
[ar-ra-PAR-ray] To become sexually excited.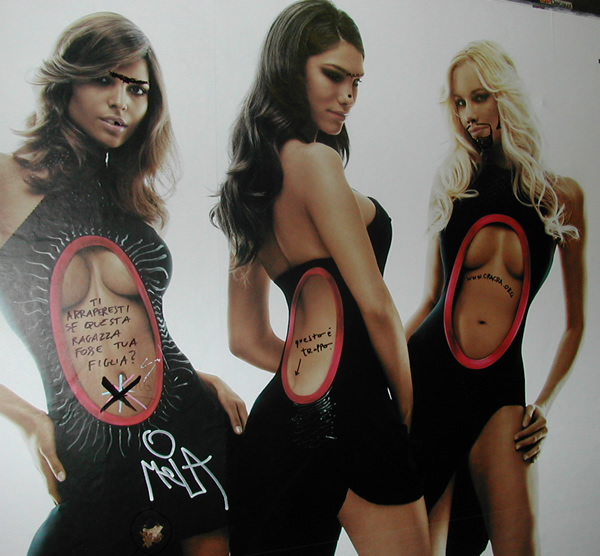 The graffiti scribbled on this poster says: "Would you get hot (ti arraparesti) if this girl was your daughter? – This is too much. – www.cracra.org"
Attaccabottoni
[ah-TAHK-ka-bot-TONE-ee] Literally a "stick-to-buttons". A long-winded bore. Someone who "grabs you by the lapel" and won't let go. This term is not particularly rude, except to the person to whom you apply it!