They tell us that this past winter has been the warmest in Europe for 200 years. Certainly our plants are confused. Some of the bulbs I planted in October were sprouting by December. The mimosas bloomed before la Festa della Donna, which I've never seen happen before. Crocuses in Italian are called bucanevi – "make holes in the snow" – but they could only make pretty white spots in the grass. And now the irises are blooming, on unusually short stalks.
I'm as confused as the plants are, but I guess there's nothing for it but to start the orto (vegetable garden). In spite of pollen allergies (also early this year) and a lingering sinus infection, I've been out toiling the soil. (Actually, the sun helped to dry out my respiratory system.)
Two weekends ago I cleared part of the orto (vegetable garden) of its winter weeds, and planted basil, parsley, one kind of lettuce, and spring onions. I weeded the flowerbed by the garage wall and planted coriander, dill, and arugula there. (Now if I can only get the neighbor's cats to quit using that area as a litter box…) And I planted various flower seeds in some of the dozens of cinder block "planters" that form our retaining wall.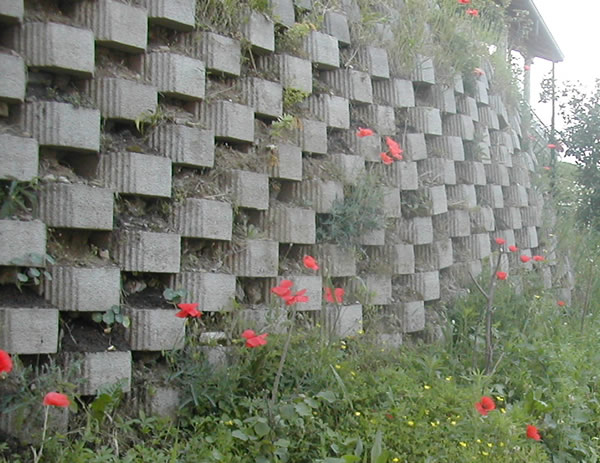 (This is what the wall looked like two years ago. I'll take a more up to date picture when we have a prettier day for it. This picture was taken in May, when the poppies usually bloom at this altitude. It will be interesting to see how early they appear this year.)
This past Saturday I worked on the compost heap that occupies a corner of the bottom level of our terraced backyard. There's too much wood in there – I need to break that into smaller pieces, and start mixing in more leafy stuff. But at the bottom, when I reached it, I found several buckets of decent compost.
I transplanted a mountain pine seedling that we had taken from the wild during a walk last year and planted in a pot. It lost all its needles over the winter and I thought I'd killed it, but now it's sprouting new greenery. I planted it at the bottom of the retaining wall where it can, well, help retain.
We went to the azienda agricola ("agricultural company") near home. I was hoping to get a jump on planting the vegetables, but they don't have much yet – I guess the greenhouses weren't expecting winter to be over so soon. But they did have, strangely, cranberries – not at all native to this region! 18 euros for six little pots of cranberry plants; we bought them on a whim. Checking my organic gardening book back home, I find that cranberries want to be in a boggy area with lots of sun. No such thing in our yard. Lots of sun, yes, but no bog – our soil is very clayey and dries out quickly. I enriched the soil in one corner of the garden with compost and planted them anyway; we'll just have to water them a lot and hope for the best. It would be nice to have fresh cranberries for Thanksgiving.
We had a fairly successful orto last year, but I learned a few lessons to apply this year:
Plant zucchine where they will have room to spread. This year I'm going to try putting them at the top of a little slope at the bottom of the large retainin wall. This slope is usually covered in weeds – the zucchine plants can smother out the weeds for me, rather than growing down the lower retaining wall and covering plants I'd rather keep healthy.
Plant more eggplant. We didn't get very many last year, and the fruit never got big, but they were very tasty – I want more of that!
Plant more of the tomato variety called costolute ("ribbed") – of the various tomato varieties we have tried, these seem to do best in our environment.
Keep cutting back the lettuce and replanting it throughout the season. I let most of it bolt last year.
Can I do something to cover the strawberries so that we get to eat them, rather than the birds? Must see what I can rig up.
Enrico mutters that the roses aren't performing as well as he had hoped when we bought them. I keep explaining that a grand garden takes time. Someday we, too, will have a wall of roses like this house in Milan: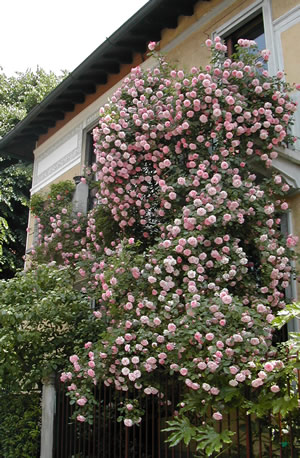 top photo by Rossella