While many people dream of Italy, it seems that most can't picture it outside the summer season. I've seen messages on the Lonely Planet boards asking: "Is it worthwhile to even go to Italy in winter?"
Well, yes, it is, especially around the Christmas season. As elsewhere in the Christian world, this is Italy's biggest holiday. In the days before Christmas, shops will be open late at night, decorated in gold and silver, red and white, with lights everywhere, and the sidewalks are literally red-carpeted. There are concerts and events, street fairs and markets, and everyone is cheerful, perhaps because for once we're all thinking about other people (i.e., what to get them for presents).
You probably don't want to be on the road, though. Extended families travel to be together for the holiday. It's rare for anyone to go elsewhere on vacation at Christmas; the proverb says: "Natale con i tuoi, Pasqua dove vuoi." ("Christmas with your parents, Easter where you like.") Millions of people travel by car (all those presents to carry!), so holiday highway traffic in Italy is horrible in the days just before Christmas and for the re-entry around the Epiphany.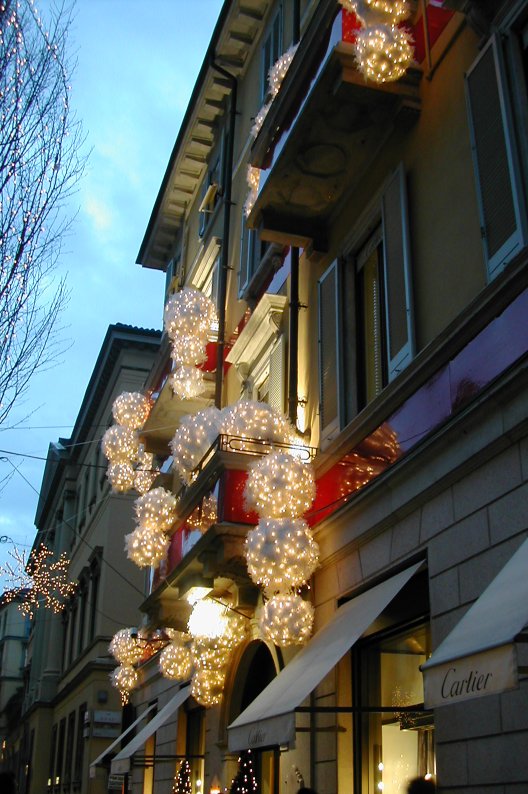 Shops are open until late on Christmas Eve, then everything shuts down for Christmas day. Except bars – you can always get coffee in Italy. Shops are also all closed on December 26th, the festa di Santo Stefano, but restaurants and at least some tourist sites are open, because that's the day when families traditionally go on a gita (a daytrip) together. The weather usually cooperates, too. Again, lots of traffic.
From the 27th to the 31st, most shops run normal schedules. Shop windows of all kinds are suddenly full of red underwear, because wearing red underwear on New Year's eve brings good luck for the new year. Plebeian cotton or sexy silk: doesn't matter, as long as it's red. I'm not sure whether it's also required to be new, but undoubtedly the shopkeepers would tell me that it is!
New Year's is party time, often in large gatherings of friends or, if you've gone off skiing or something, in paid large parties at hotels, restaurants, etc. An Italian New Year's Eve party usually involves talking, dancing, drinking (though rarely to excess), and continuous eating, with a big feast after the stroke of midnight. This feast always includes lentils because, the more lentils you eat, the more money you will earn in the new year.
Another holiday tradition in Italy is gambling. This is about the only time of year that I see Italian families play cards or table games. The traditional games are mercante in fiera ("The merchant at the fair," a card game about trading for goods), briscola (another card game), and tombola (bingo), all usually played for small sums of money.
For a big party one year, our friend Sandro created a quiz-show style game with questions in categories (history, sports, etc.), played in teams of four. Because he's an ex-seminarian, one of Sandro's categories was "religion." Enrico and I are both unrepentant and unconverted survivors of religious schools. Much to our surprise, we won the whole game. We didn't know anything about sports, but we were the only ones who could answer anything in the religion category (even though everyone else in the room would probably have claimed to be Catholic, if asked).
Everything is closed again on January 1st, and more or less back to normal on the 2nd. Then closed again on the 6th, the Feast of the Epiphany, the day that the magi arrived in Bethlehem bearing gifts. In Italian tradition, the Befana, a witchy-looking old crone, brings presents to the good kids and carbone (coal) to the bad ones. That is why you'll see shops and stalls selling witches alongside Santa Clauses (an import) and lumps of black sugar "carbone." These days, the Befana is an excuse for kids to extort yet more presents from everybody. Perhaps this is forgivable, since the Epiphany is the end of the holiday season; school starts again on the 7th.