I had been saying all summer that I was going to make tomato chutney during this season, while the tomatoes are at their best – and, in Italy, that is very good indeed! My favorite fruttivendolo was selling pomodori ramati – tomatoes on the vine – at 3 euros for 3 kilos, so I bought 3 kilos (~ 10 lbs.).
I first scalded all the tomatoes, in batches, in boiling water for 15-30 seconds, lifting them out with a slotted spoon and letting them drain and cool in a colander. When they were cool enough, I peeled them (at this point, you can just strip the peels off with your fingers), chopped them, and removed most of the seeds – this is a personal thing, I just don't like the seeds. If you don't care, you can leave them in.
3 kilos is a lot of tomatoes, so I decided to make two different kinds of chutney, both from Madhur Jaffrey recipes. First was a Hyderabadi chutney – very peppery and garlicky, a bit yellow from turmeric. Unlike most of the chutneys I've made so far, this one is sauted. It is tasty, and VERY hot.
The bulk of the tomatoes (2.3 kilos) I used for my usual sweet tomato chutney, again a Madhur Jaffrey recipe. I can't find online the exact recipe I'm using, but this one is similar – just use fresh tomatoes prepared as described above.
This recipe calls for cooking the tomatoes in vinegar and sugar, with lots of minced garlic and some spices and salt, for about an hour and a half. The recipe calls for raisins, which maybe help it densify (is that a word?) faster, but I decided to leave them out since I still have a batch of apricot chutney made a few weeks ago, with raisins. So the cooking time got longer, and it got slightly burned on the bottom before it really got dense enough. But I picked out most of the black specks, and they don't seem to affect the flavor, which is sweet, sour, and garlicky, all at the same time.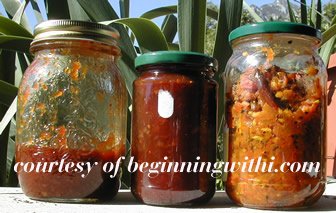 The pictures show all three chutneys – apricot, sweet tomato, and spicy tomato. Hmm. I still have some things to learn about food photography. The first two will go well with cheeses – aged and sharp cheeses such as parmigiano for sure, and probably with some kinds of pecorino (sheep's milk) or caprino (goat's milk) cheese as well, especially aged ones. The third one is more like a relish; I'll have to see what it goes well with, though Ms. Jaffrey says it "could brighten up almost any meal."