The Venue
We had planned all along to have our wedding at home. The house we have been renting since December 2018 was remodeled in the early 2000s by the recently-divorced owner of a high-end bath and kitchen outfitter. The remodel seems to have been intended to turn the place into a swinging bachelor pad. There's a fabulous kitchen / open space for entertainment, another large room (shown as the "media room" on the house plans) added onto the back, and a big open backyard with… a tiki bar. I kid you not. Which is canopied to protect the large BBQ grill and non-working fridge, and also has a bar sink. The owner who remodeled had also put in a pool, but the current owner thought it was too close to the house foundations to be safe, and had it filled in years ago. So now there's a wooden deck surrounded by smooth concrete, which leaves a nice big space to put a tent.
"This would be a great place to have a wedding," occurred to me when we first looked at the house in November of 2018. I knew from friends' recent experiences that wedding venues in the Bay Area are expensive and need to be booked well in advance. Having a house where we could host at least a small wedding would give us flexibility in choosing a date, as well as saving time and money. However, the space is not huge, so we couldn't invite as many people as we otherwise might have.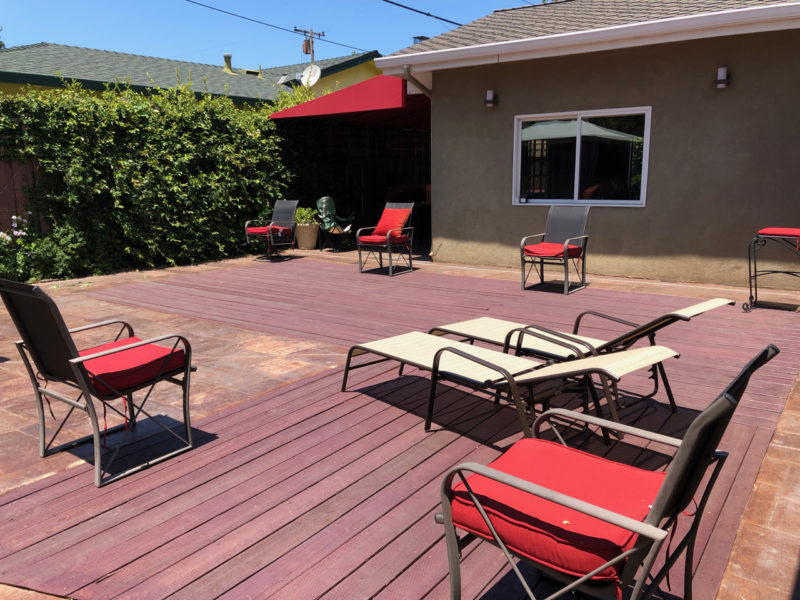 The Date
All of this happened in a hurry, as weddings go: Most people start planning a wedding well over a year in advance. We were thinking about it in 2018, and by early 2019 had decided that we would get married within the year. But when, exactly? We wanted to give people time to plan travel, but we didn't want to risk an outdoor event during California fire season. The very suburban part of San Jose where we live is not likely ever to be directly on fire (not for long, anyway), but smoke from fires elsewhere reaches here, sometimes at levels dangerous for me and other susceptible people to breathe. (I originally wanted to keep the guest list small enough that we could move everything indoors if we had to, because the exact timing of fire season is unpredictable.) August seemed like a good compromise, and we chose the 17th because it was before Mitchell's school year started, but after Rossella's 30th birthday.
The Food
Food was one of the easy choices. We frequently eat at (or order in from) The Mynt, an Indian restaurant whose menu is a fusion spin on the standard north Indian restaurant fare. They also make some of the best naan I've eaten anywhere. A couple of years ago I had them cater a work party that we held at the home of my colleague Arun. They brought a portable tandoor and kept popping out fresh tandoori goodies all night, and their prices were extremely reasonable. I called up Tej, the owner, blocked the date with him, and that was set. Closer to the date, Denise worked with him to define the exact menu and quantities. (We ended up with leftovers, but that always happens to me. And it was all so good that we were happy to go on eating it.)
Denise also designed two themed custom cocktails for us, and taught the (hired) bar staff to make them.
For cake, I turned to Myrna, who always knows all the best restaurants and especially desserts. She took me for two cake tastings (sure, twist my arm and make me go eat delicious cake with a great friend!), and we agreed on Sugar Butter Flour to make a small wedding cake, plus another cake to make sure there was enough for everyone, and a flourless cake for the gluten-free.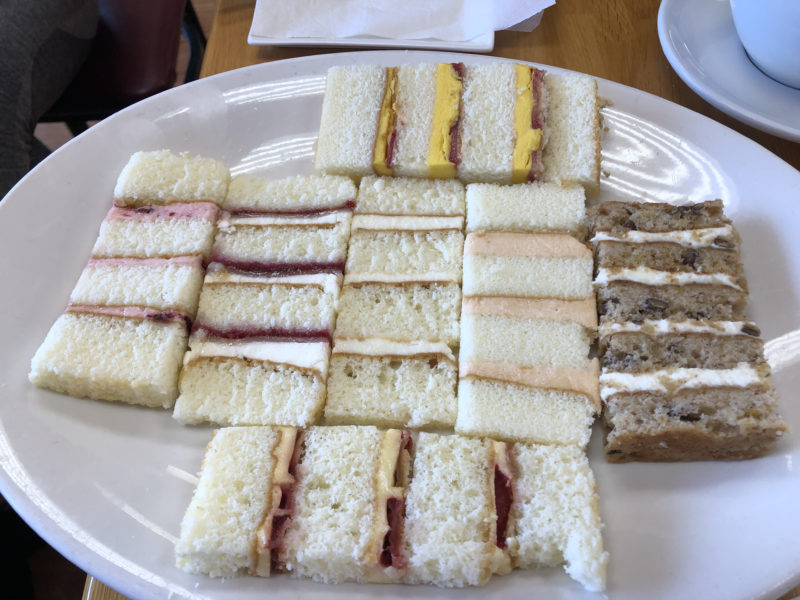 The Officiant
We weren't going to have any sort of a religious ceremony, nor did we want to hire some random person to pronounce our vows. Sue, one of my oldest and closest friends, and her (also dear) husband Jeff had come for a visit in mid May, at which time I asked, upon Rossella's suggestion, that Sue officiate the wedding. Sue, as well as being my long-time accomplice and mutual support in all sorts of craziness, has many years of public speaking experience (she is the CEO of a mental health organization in Kansas City). Although she'd never officiated a wedding before, I knew she'd be perfect for it.
As I learned, you can be temporarily certified as a Deputy Commissioner of Santa Clara County specifically to officiate a wedding, so during the May visit Sue and I went off to the office of the Clerk Registrar of Santa Clara County and got that taken care of. Here's Sue with the official paper making her an official in California (ssh! Don't tell anyone in Kansas!).
During Sue and Jeff's visit we also had a representative from Bright Rentals come to look at the space and make recommendations. He determined that a 20×25 foot tent would fit most of our L-shaped space, and of course we needed tables, chairs, table linens… the Bright guy left me a book a swatches from which I initially chose a flamingo pink, but we had the option to make changes up to a few days before the installation date, which turned out to be a good thing. Because the venue was ours, we could be flexible about when the tent got installed and removed, saving some extra charges.
Guest Accommodations
We were expecting out-of-town guests, including a bunch of friends from Woodstock School who would enjoy (and be accustomed to) staying together. Fortunately, I found a nearby house that had evidently been remodeled expressly for renting on Airbnb – it had four bedrooms, each with its own bath, a large kitchen, and plenty of room to host pre- and post-wedding get-togethers, so as not to overload our own house.
Committee Meeting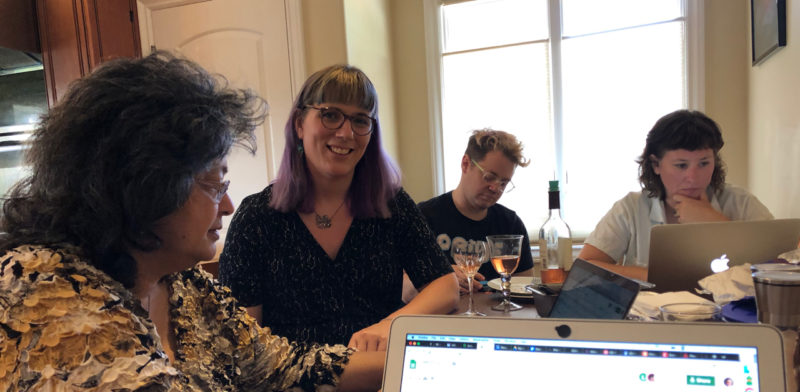 Friends were pitching in with help and ideas. A small gang assembled to go over the space and share ideas on decor and flow. Jonake later dropped off silk saris that a neighbor of hers offered that we could decorate with (as long as we didn't cut or damage them). These would indeed come in handy.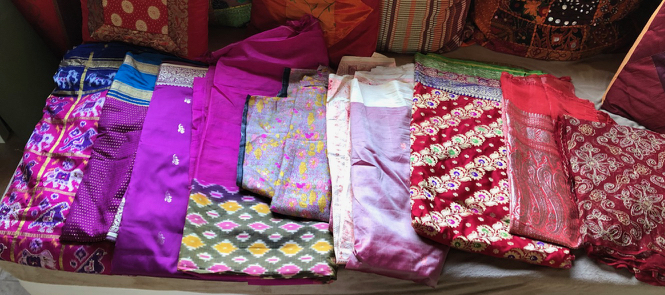 Denise, in Florida, was designing the table decor. This involved a lot of idea photos being sent back and forth, and me ordering stuff from Amazon which I sometimes ended up returning if we didn't like it.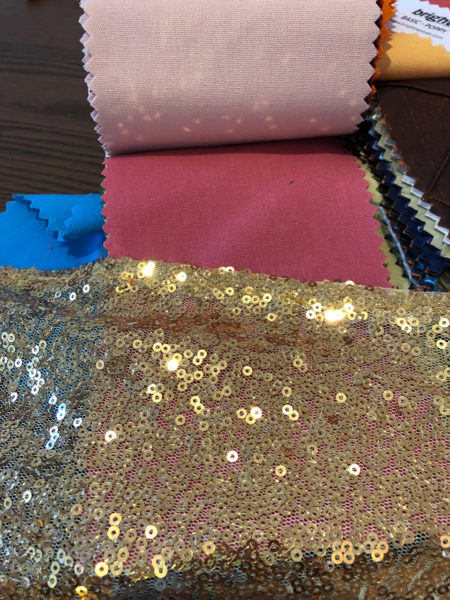 In parallel with all this, I was having my wedding dress made, organizing my hair, makeup, and mehndi, and wondering what Brendan was going to wear – in the throes of writing a book, it was difficult to get him to think about a wedding suit.