Although I would not be wearing Indian clothing for the wedding, I wanted to have really good bridal mehndi done. I get mehndi whenever I can (usually on trips to India) but had never gone so far as to have both hands and feet decorated – that's usually reserved for brides. Now it was my turn.
The current tradition in India is for the bride to have a mehndi party for her female friends some days before the wedding (mehndi needs a few days for the color to set and deepen). There are many mehndi artists in the Bay Area, but the wedding date turned out to be a problem: August 17th was the weekend after Indian Independence Day, August 15th, and many of the artists were booked for other events.
The artist I originally found (via a friend) was not available, but she recommended another, Varsha, who did a small drawing on me in mid-July so I could see how the settled mehndi color would eventually look with the pink of the dress.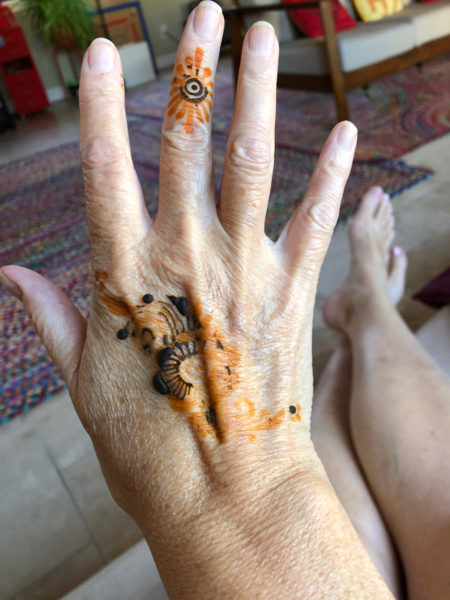 For the color to look best on the wedding day, Varsha suggested that we do my bridal mehndi on August 14th (which also happened to be the only day that she was available). Unfortunately, this meant that the bridal party would largely miss out – the only guests who would already be in town by that morning were Rossella and Denise. Oh, well – we'll just have to have a mehndi party some other time!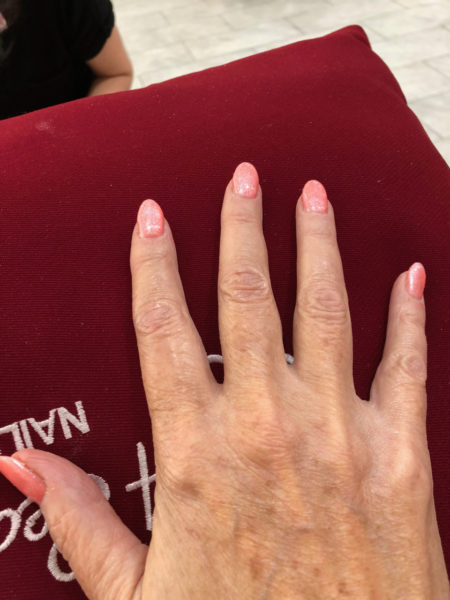 Varsha had advised me to get my nails done beforehand, which I did on the 13th, at my usual neighborhood nail spa. My nails were mostly broken off short from gardening so, for the first time in my life, I had fake nails done. They looked great – the spa owner did the job herself. They also irritated the hell out of me for the two weeks I had them on because they interfered with my typing. And they destroyed my real nails when removed; it took months of nail growth to recover from that (the things we do for beauty).
Varsha had explained what would be required of me to get the mehndi applied and keep it looking good for the wedding. Application would take four hours or more (depending on how far up my arms and legs I wanted it to go). The mehndi goes on as a thick paste which dries onto your skin, and is then held on with a sealant. Varsha makes her own sealant out of sugar and lavender oil, which forms a hard crust. I was to leave it as undisturbed as possible for 12 hours. My hands would be covered front and back, so I'd be unable to use them – I would need to be hand fed by other people! And I couldn't walk around much, so as not to crack the mehndi around my ankles. I couldn't get wet for at least 24 hours, and should avoid soap and water as much as possible until the wedding.
I decided that this was a very wise cultural practice designed to make the bride sit still. Because, otherwise, the bride will run herself into the ground trying to do everything about everything for everybody and will arrive at the ceremony in a state of collapse. Or is that just me?
Sitting still does not come easy to me, and I was worried about all the things that needed doing. But Rossella arrived the evening before to help, so I declared myself on vacation from work starting Wednesday morning.
Varsha arrived bright and early, and we got down to it.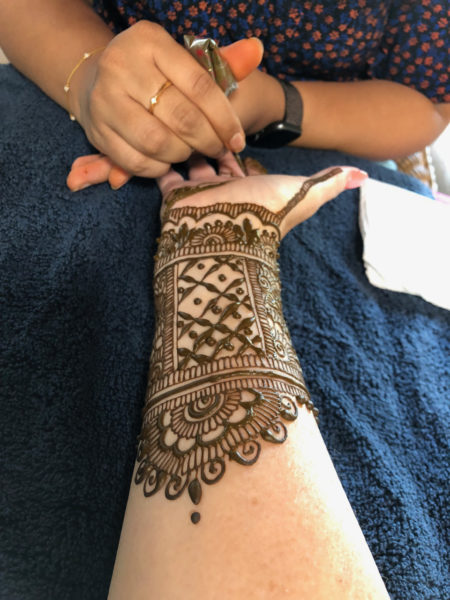 Denise arrived from Tampa while I was being painted, so after Varsha got done with me, Denise and Rossella also had mehndi done. (The next day, when they were out eating dosas, a very excited Indian woman asked where they had gotten the beautiful mehndi work done – she was looking for an artist for her daughter's wedding. I hope we sent some business Varsha's way.)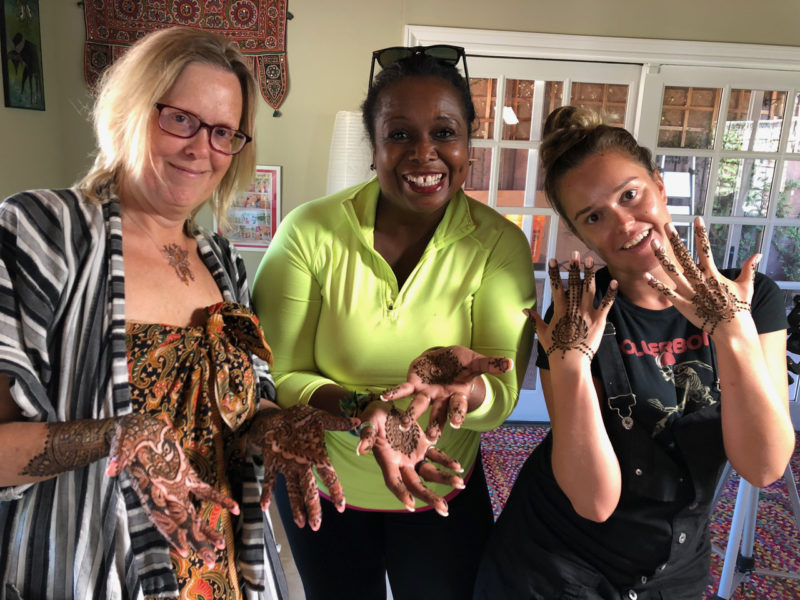 Even Mitchell wanted mehndi: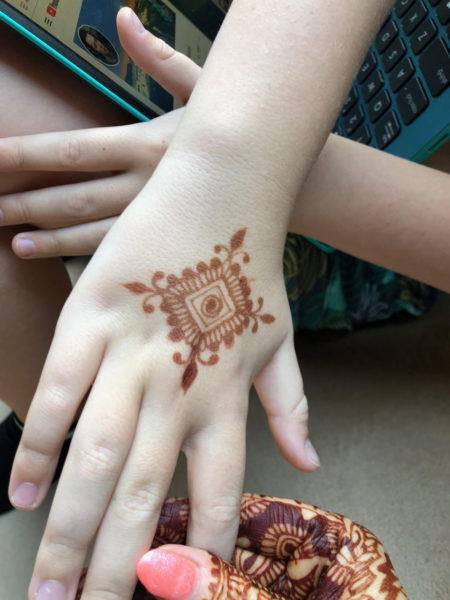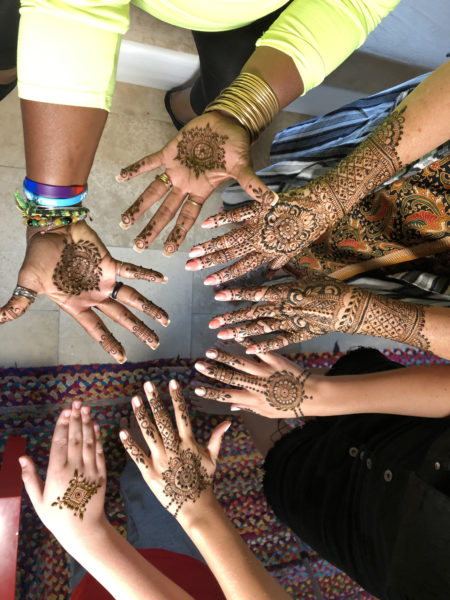 So, in the end, we had a mehndi party!
Denise and Rossella did indeed hand-feed me (burritos). I lounged around as much as I could stand to, trying not to cause the mehndi paste to flake off. Varsha had told me I could remove the hardened paste before going to bed, so as not to stain my sheets, but not to use water. It took a lot of scraping with a dull dinner knife to get most of it off, but I left the stubbornest bits on – the longer the paste stays on the skin, the deeper the dye.
The next day, I was still wearing gloves and not using my hands much. Rossella got in the shower with me and washed my hair for me (we have a big, spa-style shower).
When the mehndi paste is first peeled off, the dye left on the skin looks orange, but rapidly deepens in color. Here's what my feet looked like the next morning, and my hands the next evening (the dye takes more strongly on the palms of the hands).
Here's what everything looked like by the morning of the 17th, the wedding day:
After the wedding, I stopped worrying about maintaining the mehndi, and went about my usual washing routines. This, combined with a honeymoon in Kaua'i, meant that the mehndi faded quickly.
Mehndi is an ephemeral art, which only enhances its beauty. Mehndi this good is something I'll probably only do once, but… so worth it!